The City and Province of Iloilo is currently under a State of Calamity after a destructive storm, named Typhoon Frank (international name: Fengshen), had just battered the country with Iloilo being one of the worst hit by the disaster. Aside from Iloilo City, most of Iloilo Province's 42 towns were also heavily affected especially the towns traversed by major rivers.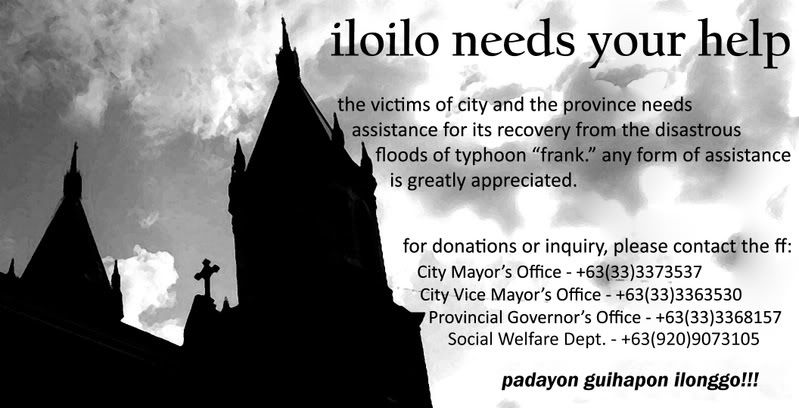 Photo by Bernardo Arellano III
 Around 80+% of the Iloilo City went underwater during the weekend because of the flood affecting 48,836 families or 244,090 persons. The worst hit district was Jaro, where the flood waters were reported to have reached a high of 2 meters, submerging almost the entire district. Residents with one-storey houses were forced to spend the night on top of their house's roof while the rain still poured down. Meanwhile, in Iloilo Province, among the most affected towns include: Oton, Miagao, Leganes, Pavia, Zarraga, Leon, Janiuay, Leon, Pototan, Dumangas, Barotac Nuevo, Ajuy, and Carles. Initial reports by the Provincial Disaster Coordinating Council tallied 115,149 affected families or 569,142 persons.
The aftermath of the storm had left a thick layer of mud all over the Iloilo City and Province: Inside homes, buildings, on roadways, and open spaces. The damages in agriculture and infrastructure in Iloilo due to Typhoon Frank was estimated to have reached more than P500M (P1B for the whole region). Ongoing rescue operations and disaster management in Western Visayas had earlier reported a death toll of 213 persons for the whole region, 135 were from Iloilo.
Iloilo needs your help! There are still thousands of families who lost their homes and are currently living in evacuation centers or in makeshift houses beside streets and bridges. These unfortunate people need food, water, clothes, medicines, etc… Any form of assistance extended to the affected families of Iloilo City will be deeply appreciated. If you're willing to give your donations please contact:
Office of the Mayor, Iloilo City.
(Read letter of appeal from Iloilo City Government)
Contact Person: Ms. Snow Chua
Tel. no: (+63)(33) 337 0036 / 3372760
Fax number: 335.0689
Office of the Vice Mayor, Iloilo City
Tel. no: (+63)(33) 3363530
Provincial Governor's Office
Tel. no: (+63)(33) 3368157
DSWD-Iloilo Provincial Office
Tel. no: (+63)9209073105
Mobile: 09189205750
Email: [email protected]
ABS-CBN Foundation
ANGELIE AGBULOS
ABS-CBN Foundation Inc.
Tel: (632) 922-4842
Email: [email protected]
SM Foundation
MS. CRISTIE S. ANGELES
Project Director
Tel. No. (632) 831-1000 locals 1492/1495/1498
Telefax No.: (632) 831-8282
Email: [email protected]
Philippine National Red Cross
Visit this page for contact and bank account details
I'll be blogging more about the Typhoon Frank. If you've got a story to tell that could inspire readers to give assistance to those who were affected by Typhoon Frank/Fengshen please do so in the comment area. Iloilo needs all the help that it can get. Thank You!