The speculations are true, the City Government of Iloilo will be transferring some offices of the City Hall to Robinsons Place. Some parts of the third floor have already been closed off for the development of their new offices in the said mall.

Perspective of the proposed City Hall of Iloilo

Fountain Area of Robinsons Place Iloilo
After the transfer of city hall offices, the construction of a new 6-storey Iloilo City Hall will commence. Among the offices set for transfer are the City Treasurer's Office, City Health Office, City Assessor's Office, Mayor's Office, Licensing Division, Administrative Section, Public Information Office, Iloilo Dinagyang Foundation Office, and the City Legal Office, among others.
Last year, there was a debate whether the new city should be built on the current site in Plaza Libertad, City Proper or in a new site in Brgy. San Pedro, Molo District. WV Coscoluella and Associates sent two building perspectives for each site. The proposal for the "current site" includes a "boxy" 11-storey building with a penthouse on the top floor, while the proposal for the "molo site" includes an expansive sprawling type structure and a promenade on the riverfont. The City Hall officials finally decided to build the new city hall on the current site because it is more accessible and convenient to the pubic since the City Proper is the center of commercial and government activity in the city.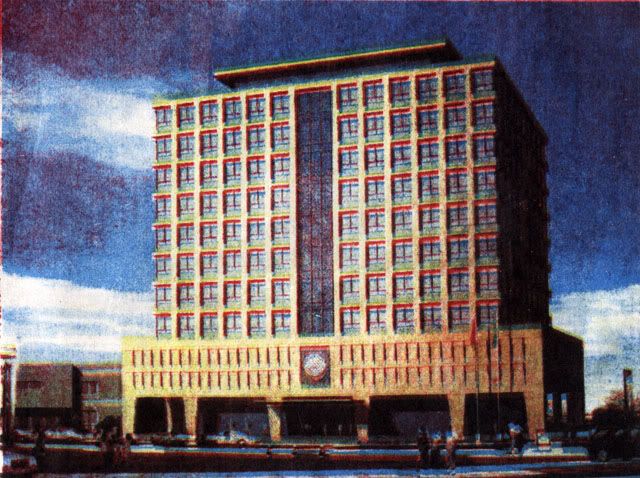 Perspective of the 11-storey City Hall building in the City Proper Site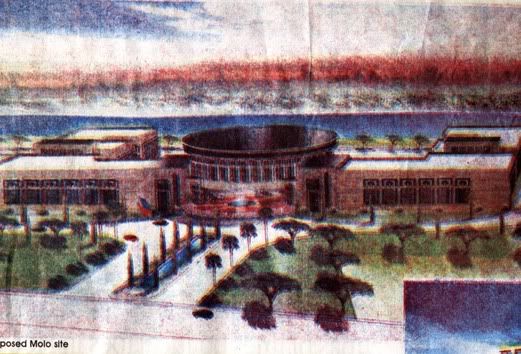 Perspective of the sprawling 2-storey Iloilo City Hall building in the Molo Site
Later, the design of the new building was changed because it was too expensive. The latest proposal includes a 6 storey building where ALL of the City Hall employees will hold office. The design of the building is influenced by different existing buildings in the city. The exterior of the fifth and sixth floor will resemble that of the custom's house semblance. The exterior design of the University of the Philippine's Library will be adopted on the entrance while its windows will de designed like the Masonic Temple's. The 3rd floor shall be the parking place and the rest will be the offices.
The project is estimated to cost P300M and the construction will run for 2 years. The new city hall is planned to replace the dilapidated and rundown city hall of Iloilo. Some parts were already assessed as dangerous since the building is too old and may already have high vulnerability to damage or even collapse. Currently, the city hall is only able to house some offices of the City Government, the other offices such as the office of the Vice Mayor have to occupy spaces in other parts of the city.