With Iloilo City's political climate sizzling, it seems developments are also sprouting in all corners of the city. 2010 is a year to watch for in Iloilo City not only because of the elections / change of leadership but also because it's the year that the Iloilo Flood Control Project and Coal-fired Power Plant in La Paz are expected to be completed, solving two of Iloilo City's major problems: Flooding and (insufficient, unreliable, expensive) Power. The first part of this month's development update will feature projects and constructions along Diversion Road (Benigno Aquino Avenue), in Mandurriao District.
Smallville 21
An 8-storey hotel is in the works in Smallville Complex – Smallville 21, another development by the owner/s of Century 21,  Highway 21 hotels and Club 21 Restobar. Smallville 21 is located in front of The Avenue Complex, beside Pirates Bar.
The commercial complex, located beside SM CIty Iloilo, has just had its groundbreaking this week and construction is already set to begin before the years ends or early next year. The 12,533 square meter, two storey, commercial complex is envisioned to host call centers (IT companies), retail stores, restaurants, and coffee shops. Plazuela de Iloilo is expected to be completed on October 10, 2010 (10/10/10).
SM City Iloilo Annex Building (not its official name)
This is the newest development of SM City Iloilo. From the looks of it, the building will be more than two floors contrary to previous reports. Teletech and Starbucks are rumored to occupy this building. Teletech would possibly use the space for their recruitment center.
Commercial Strip beside SM
At the other end of SM City Iloilo is another commercial development. Langford Place (one of the coffee shops that used to occupy the space where the new SM City annex now stands) has already opened up shop there. This small strip is ideal for offices, restaurants, and coffee shops.
Plazuela de Iloilo
KAPIDECO Estate Rotunda
The plan for the KAPIDECO (Kauturan Pison Development Corp.) Estate was one of the developments bared during  the Iloilo Investment Forum. KAPIDECO Estate is a master planned mixed-use development in Brgy. San Rafael – Tabucan. One of the highlights of the complex is its rotunda, the centerpiece of which is an authentic muscovado sugar mill chimney enhanced with ornate designs and a landscaped garden.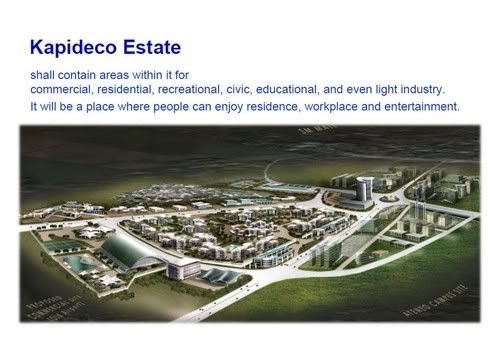 Ateneo de Iloilo
Ateneo de Iloilo's new campus in KAPIDECO Estate in Brgy. San Rafael is still in full swing. It is expected to be completed next year and will serve as a catalyst for development in the area.
Iloilo Scholastic Academy New Campus
Iloilo Scholastic Academy is one of the Chinese educational institutions in Iloilo City catering pre-school, grade school, and high school students. Currently located in La Paz District (near Gaisano Capital Mall), Iloilo Scholastic Academy is set on building a new spacious campus in Brgy. San Rafael, Mandurriao (near the backlot of SM City Iloilo).
There's also a new building being constructed beside Piazza / Uncle Tom's, we still don't have any info on what it's going to be.
Stay subscribed for Part 2 and 3 of this month's Iloilo development. The next round-up will be featuring recent developments in Jaro and La Paz Districts.